Updated on 16th November 2019, latest Australia skilled independent visa points-tested stream that you can check how many points have been added.

We have many students who are currently studying immigration courses, and some students have successfully immigrated after studying immigration courses. We believe that the students who want to immigrate are quite concerned about how to immigrate after graduation.

To be eligible for Skilled Independent Visa, your occupation must be on the relevant Medium and Long-term Strategic Skills List (MLTSSL). Secondly, the course you have completed in the institution should be accredited by professional organisation on MLTSSL.

For example, Accountant (General) on MLTSS
The program of institution is accredited by the assessing authorities - CPAA/IPA/CAANZ, or your occupation skill is accepted by these three assessing authorities.

Please do not hesitate to contact AC&T if you have any questions about your program can be eligible for immigration!

If the program meets the requirements of MLTSSL, you can get a skills assessment. At the moment, you need to obtain a score of 65 points for applying for Skilled Independent Visa. However. some popular programs, such as accounting, IT, Engineering, due to the fierce competition, the invited score should be higher.

You can contact AC&T for more details about EOI.

Please see the following Points Calculator that was updated in November 2019. Now you can check how many points you have added.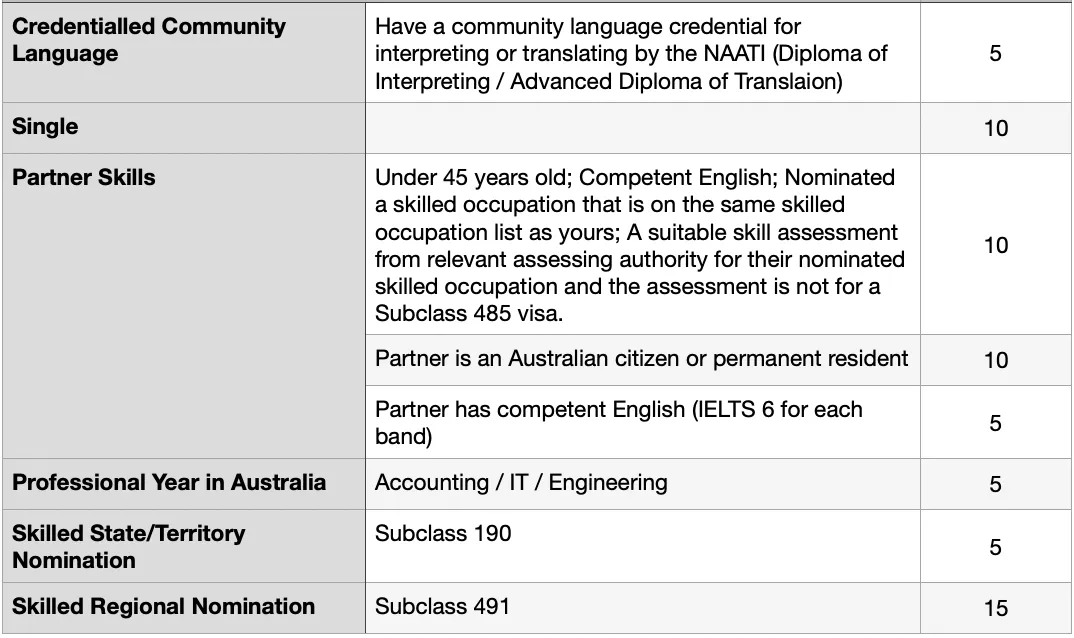 For the above Points Calculator, the biggest changes are the "Single Applicants" and "Partners". Please note the part of "Partners" that you can only choose one of the three points. It means you can add up to 10 points.
Please do not hesitate to contact AC&T if you have any questions about immigration programs or skills independent visa application.🙋🏻‍♀️🙋🏻‍♂️